Advertise with RailsNotes
You could be reaching thousands of passionate Ruby on Rails developers each month by advertising with RailsNotes.
You can advertise with RailsNotes in two ways — a placement in the weekly RailsNotes newsletter, or a placement on the main website.
For all enquiries, send an email to advertising@railsnotes.xyz.
📝 Newsletter Advertising
Each week, hundreds of passionate Ruby on Rails developers receive our newsletter. The Ruby on Rails community is hungry for great content, and this newsletter provides it.
A standard placement consists of an image, a short title, and ~50 words of text (including links).
Your information will be placed at the start of the newsletter, just under the header image. Your ad will look something like this ↓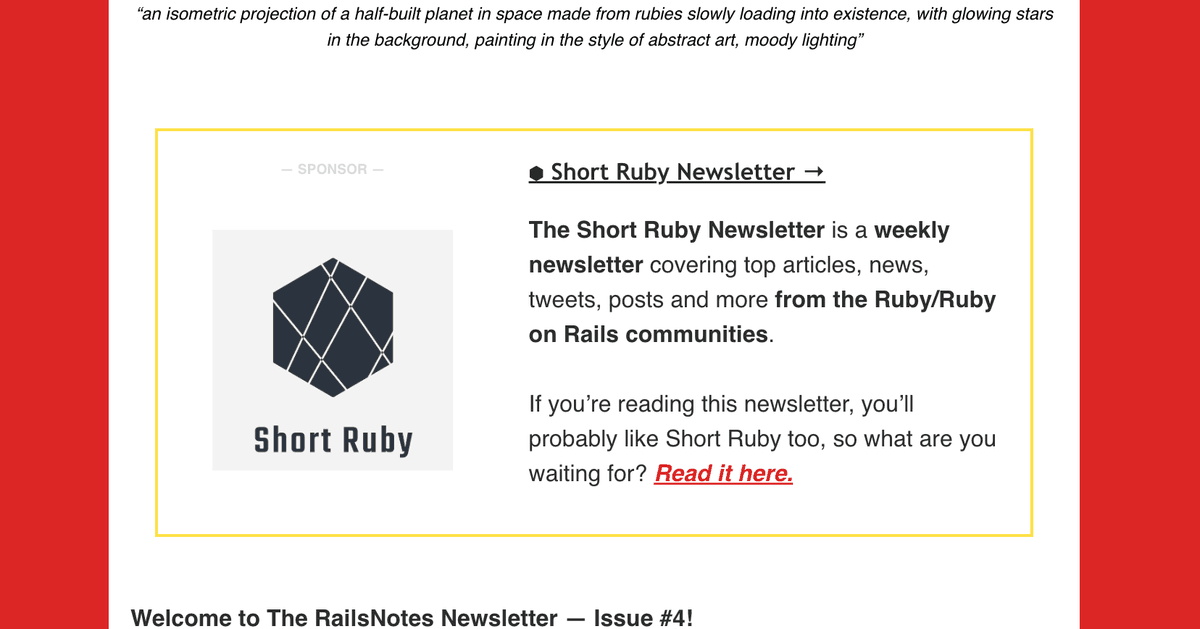 Our current advertising rates are $50 USD per issue (and will increase as the list grows).
🌐 Site Advertising
I'm interested to hear from individuals or companies interested in supporting the main RailsNotes site. This would involve a prominent display of your information on all the RailsNotes blog posts, and the main landing page. Please reach out if your're interested.
🕊️ Ideal Advertisers
Our ideal advertiser is a company which is relevent to the Ruby on Rails community (or the wider developer community) in some way. If I don't think your company is a good fit for RailsNotes, I'll politely decline your advertising request.
Some examples of a good fit — Ruby on Rails consultancies, monitoring or hosting services for Rails apps, well-known companies in the developer / Ruby on Rails space.